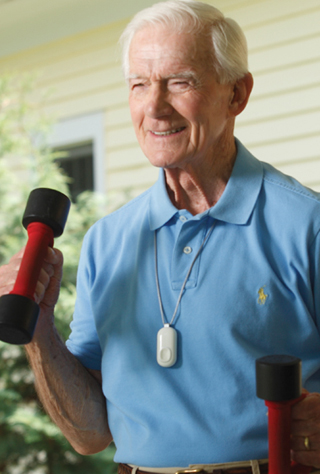 HomeSafe with AutoAlert is the most widely adopted fall detection technology in North America. Victoria Lifeline clients across the province trust the AutoAlert button to call for help even if they can't. AutoAlert can provide some much needed reassurance and peace of mind to clients and their loved ones knowing help can be accessed in an emergency.

Extensively researched and tested by Philips, the AutoAlert button detects greater than 95%* of falls and offers all the benefits of a medical alarm with that added layer of protection. The button is designed to automatically signal the Response Centre and call for help if a fall is detected. Watch our video to find out more about the technology behind AutoAlert.
HomeSafe with AutoAlert includes the same state-of-the-art communicator as our standard service, along with a pendant-style button (no wrist option available). Lightweight and sleek, the smoothly designed button is also waterproof and can be pressed for help at any time. A Home Service Representative will visit your home to install the unit, test the button, and explain how the AutoAlert technology works.
*AutoAlert does not detect 100% of falls. If able, you should always press your button if you need help.