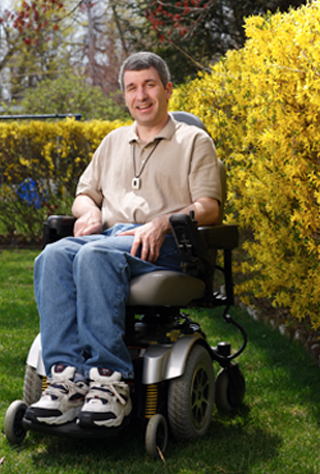 Our original, easy-to-use medical alert service connects you to a trained Lifeline Response Associate at the touch of a button. Our HomeSafe Standard service is an affordable option that will fit your needs and your budget. This includes a two-way Communicator and a help button worn on your wrist or as a pendant-style necklace. If you live with a spouse or partner, both of you can have a standard button for the same low, monthly fee. With no long term contract and no high-pressure sales tactics, Victoria Lifeline delivers a quality, caring service that supports your independent lifestyle.
Victoria Lifeline provides the installation, maintenance and servicing of all equipment. Our Home Service Representative will visit your home to install the Lifeline equipment and then demonstrate how it works. We encourage and welcome family members at the installation appointment.
How it Works
Whether you need emergency assistance or help from a friend or family member, Victoria Lifeline is there for you when it matters most.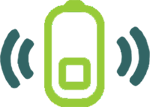 Summon help
Simply press your Help Button to activate the two-way Communicator unit and connect to the 24-hour Response Centre.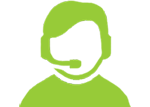 Hear a Reassuring Voice
A Response Associate will quickly answer the call then access your profile to determine the exact help you need. Even if you can't speak, take comfort in knowing that help is on the way.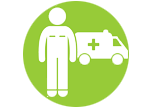 Receive the Right Care
The Response Associate will contact a friend/family member or Emergency Services depending on your situation, and follow up to confirm help has arrived. You decide which loved ones or friends you want us to call if you need help, designated as Responders. They should have a key to your home or know where one is located (a lock box for example).
Help Buttons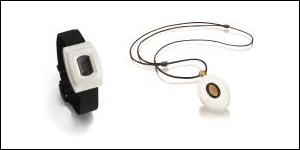 Through our partnership with Philips Lifeline, we offer the latest technology in medical alert devices, which are both assembled and tested by Philips Lifeline. With the Philips brand you know and trust, you can feel confident choosing one of the standard personal help buttons. Depending on your personal preference, you can wear the button around your neck as a pendant or on your wrist. Lightweight and discreet, the buttons are comfortable and meant to be worn 24 hours-a-day.
Important Features
Waterproof: Buttons are designed to be worn in the bath or shower, a common place for household slips and falls.
Long-lasting battery: Use your button as much as you need without worrying about the battery. When it eventually needs replacing, a low-battery signal will be sent to the Response Centre and we will call to schedule a service appointment. All service calls are free for as long as you have Lifeline. With our personalized service, you won't have to wait for a replacement button to be sent in the mail.
Easily reached: Unlike a cordless phone or cell phone, your button is always within reach and ready to be used.
Designed for everyday use: The subtle design of the button makes it easy to wear 24/7 and it can be hand washed with soap and water if needed. The neck cords are designed to break away in the event of an emergency and can be replaced if damaged or soiled.
Range of operation: The button has a wide-range of operation, so you can call for help anywhere in and around your home when you're within range of the Communicator. During the installation appointment, our Home Service Representative will test the button so you know exactly where it works and how far. The signal range may vary due to the construction of your home and distance from the Communicator.
The ability to answer an incoming call: Rushing to pick up the phone can pose a fall risk, so the button can also be used to answer an incoming call. Just press your button after the phone rings twice and talk to your caller through the Communicator's two-way speaker. (Note: this option is not available on the 7000 series wireless communicators)
Do you have mobility issues or physical challenges that may prevent you from pressing a help button? As an alternative to the standard help button, Victoria Lifeline also offers Lifeline Access switches for individuals with physical challenges. Click here for more information or call our Education Facilitator for a demonstration (204) 956-6777.
Communicator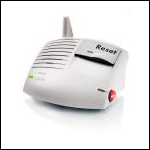 Through our partnership with Philips Lifeline, we offer the most advanced medical alert equipment on the market today. Philips brings innovation and state-of-the-art design to all their products and the Lifeline communicator unit is no exception.
To ensure proper installation, our Home Service Representative will connect the unit to your phone line and then test the range of operation. When you press your help button within range of the Communicator, it will speed dial the Response Centre so you can talk to a trained Associate through the two-way speaker.
Important Features
Tasteful design: The unit is small and easily fits into your home décor.
Automatic self-testing: The Communicator conducts regular status checks and will automatically alert the Response Centre if maintenance is required.
Back-up battery: The back-up battery will work for up to 30 hours in a power outage.
Fast-dialing: Provides quick access to help around the clock.
High-quality speakers & microphone: The communicator unit can amplify sound, making it easier to hear the Response Centre, and for them to hear you, throughout your home.
Benefits
Working with clients and caregivers for almost thirty years, we've heard so many positive, life-affirming stories about the benefits of Victoria Lifeline. We have clients who've celebrated their 100th birthday and are still living independently in the same home they raised their children in. They rest easier at night with a personal help button at their fingertips and so do their loved ones. We also have clients in their 30s who are living with chronic medical conditions. They too enjoy the freedom and independence that comes from having Victoria Lifeline.
A medical alarm is not about age - it's about being prepared for the unexpected. It's about feeling confident and secure in your own home. Read our customer stories and learn how Victoria Lifeline has made a difference in their lives.
Important Benefits
Protection 24/7: You don't always know when an accident might happen, but you can be prepared for one. A slip or fall can happen anywhere in your home, even in the middle of the night. With a press of a button, you are quickly connected to the Lifeline Response Centre and can speak to a live person. And remember, Lifeline is not just for falls! Not every call for help is an emergency. If you're locked out of the house one night with no cell phone, we can even call a friend or family member to let you in.
Peace of mind: If you live alone, Victoria Lifeline can be there for you when your family can't. You will feel a greater sense of security and peace of mind knowing that help is just a button push away.
Affordability: For a little more than a dollar a day, much less than an assisted living facility or personal care home, Victoria Lifeline helps you live on your own terms, in your own home, at an affordable price. As a not-for-profit community service, there is no tax on any of our monthly service plans. The monthly monitoring fee can be paid by pre-authorized debit or by credit card.
Independence: In a national survey, older adults reported that their greatest fear was losing their independence. Over 90% of older adults said they wanted to remain at home as long as possible. Victoria Lifeline supports independent living and is simply another resource to help you age in place safely.
Still undecided? We also offer a no obligation Home Visit. A Victoria Lifeline Education Facilitator will visit your home to show you the equipment and demonstrate how it works. With no obligation to sign up for the service, the home visit is a great opportunity to ask questions one on one. Click here to fill out your home visit request.