Steve Miville
Steve retired in 2015 at age 60; a landscape architect, he worked as a Project Manager for the Federal government. Steve dedicates two days a week to Victoria Lifeline, installing the service for clients around Winnipeg.
Steve always knew he wanted to give back to his community in retirement and decided on Lifeline after he saw the value first-hand. "We got Lifeline for my mother after she had a stroke," Steve said, "and it was the best thing we ever did."
This volunteer role is exactly what Steve was looking for. He wanted something that was a good fit for him but was also meaningful. "I've always had an affinity with seniors," he explained. "You can see the appreciation in their eyes after you've set up the service."
Steve often goes the extra mile for our clients and even shovelled the walk for a senior who was shut-in after a winter storm.
Steve spends one of his volunteer days with his daughter Steph as they install Lifeline together. It's proven to be both a rewarding experience and an opportunity for some quality family time.
Rod Biggs
There are many words that could describe Mr. Biggs; dedicated, steadfast, humble, but the one word he's exemplified for the last ten years is volunteer. A Home Service Representative for Victoria Lifeline, Rod devotes two days a week to our organization. After working for the Scotiabank for 44 years, Rod was looking for something to keep him busy in retirement and Victoria Lifeline was the perfect fit.
Since 2006, Rod had logged over 6,000 hours of volunteer service – he has installed Lifeline for over 2,000 clients and completed almost 3,000 service calls throughout Winnipeg. What an incredible contribution! While so many people have been touched by his philanthropy, Rod remains modest about his accomplishments. "My only hope is that the client uses the service. That it is there for them when they need it the most."
Rod also volunteers for other organizations and has recruited friends and former co-workers to volunteer with Victoria Lifeline. He is living proof that one person can make a tremendous difference in the lives of others.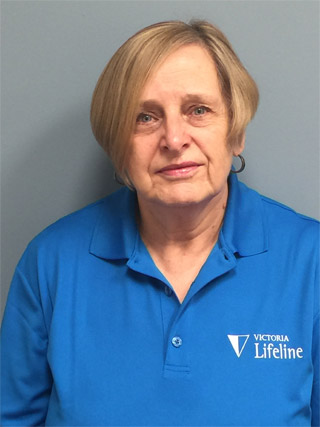 Pat Haywood
Pat worked as a nurse in Emergency for 40 years before retiring. With shift work and long hours, Pat had a busy career life and looked forward to the day she could give back to the community by volunteering. She now donates one day a week to Victoria Lifeline, installing the service for clients. Pat enjoys the versatility of the Home Service Representative role and the personal satisfaction it brings her.
Initially, Pat was unsure about the technical side of installing, so she went on a few 'ride-alongs' with our more experienced volunteers to see if it was the right fit. "The training was great," she said. After almost a month of on the job training, Pat was ready to fly solo.
"By volunteering with Victoria Lifeline, I'm able to continue with teaching aspect of my profession", Pat remarked. With over a year under her belt, Pat is enjoying the experience thoroughly. "I've met so many wonderful people and heard so many stories. The lives some of these clients have led, the things they've accomplished, it's incredible."
We find that dedication inspiring. Call today to find your inspiration. (204) 956-6773 or email our Volunteer Coordinator.